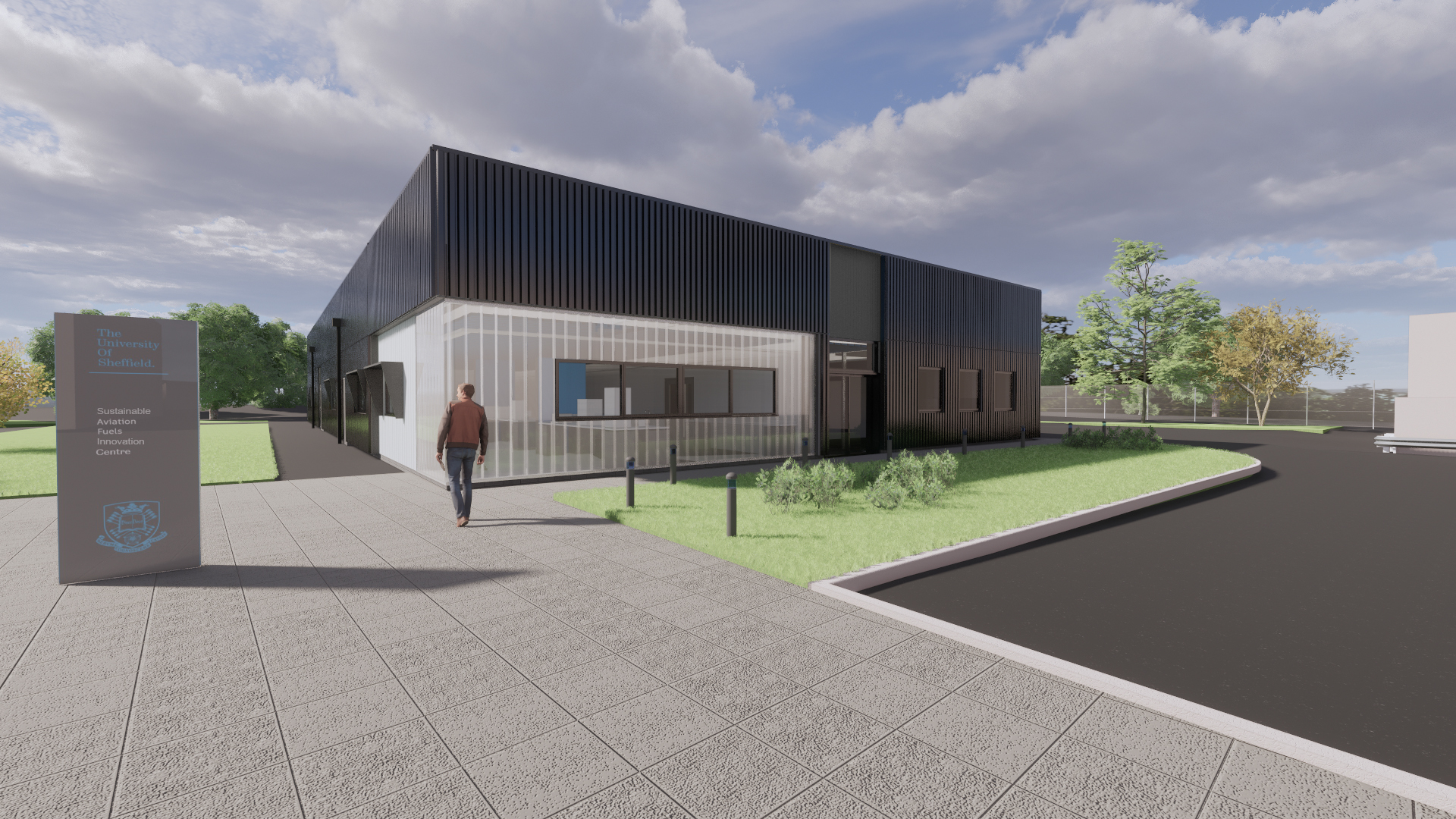 A new centre that will lead research, innovation and commercial testing of sustainable aviation fuels – the first of its kind in Europe – is to be built by the University of Sheffield.
The Sustainable Aviation Fuels Innovation Centre (SAF-IC), part of the University's Energy Institute, will provide world-leading, state-of-the-art facilities to test, certify and deploy new sustainable aviation fuels.
Jointly funded by the European Regional Development Fund and the University of Sheffield, the centre will be located at the University of Sheffield Innovation District and will act to assist Clearing House fuel evaluation activity, testing, evaluating and certifying new fuels. SAF-IC will be the first centre in Europe to be able to capture CO₂, produce green hydrogen, convert them into sustainable aviation fuels and analyse their performance all in one single location.
A clearing house is seen as the missing link to help producers of sustainable aviation fuels bring their products to market. Having such a facility in the UK will accelerate regulatory approvals of new fuels and give the UK certification capabilities.  
SAF-IC will be a development hub for the research and scaling-up of sustainable aviation fuels, offering laboratory and testing space as well as coordination and networking facilities.
The facility will work in combination with the Translational Energy Research Centre to support state-of-the-art research and provide much needed testing capabilities to help ready sustainable aviation fuels for commercial use.
Sustainable aviation fuels are vital to reducing the UK's carbon emissions. The UK aviation industry is responsible for around seven per cent of total UK carbon emissions, and this number is growing fast. However, aviation's reliance on fossil fuels makes it a challenging sector to decarbonise. 
Although it's expected that new technologies will propel planes in the future, for now it's widely seen that the best option to help the industry decarbonise is to exchange fossil fuels for fuels made from sustainable materials such as agricultural waste and waste oils. Making sustainable aviation fuels a viable commercial option for the aviation sector could reduce UK emissions in 2050 by 32 per cent. 
The UK government acknowledged the importance of sustainable aviation by including ambitions for 'jet zero' in its Ten Point Plan for a Green Industrial Revolution.
Any new aviation fuel must undergo significant fit-for-purpose testing before it can be safely introduced to the market. Technology and chemical processes to produce sustainable aviation fuels do currently exist, but many producers, especially SMEs, require support to scale up production and formally test their fuel. SAF-IC will provide this support with access to collaboration space, world-leading next-generation equipment and the expertise needed to carry out all of the key stages of the testing process required to formalise a new fuel. 
The Sustainable Aviation Fuels Innovation Centre will heavily invest in supporting SMEs in South Yorkshire as well as work with partners from the aviation industry locally, nationally and internationally. 
SAF-IC will help to establish South Yorkshire as the leading R&D centre of excellence in sustainable aviation fuels. The facility will provide employment opportunities, attract investment and work with the wider region to support innovation and growth in the area. 
Director of the University of Sheffield Energy Institute and Managing Director for the Sustainable Aviation Fuels Innovation Centre, Professor Mohamed Pourkashanian, said: "We are extremely excited to be establishing this state-of-the-art innovation centre in the heart of the University of Sheffield Innovation District. SAF-IC will help the UK to determine the best pathways to net zero aviation, and play a crucial role nationally and internationally in delivering truly sustainable flight. 
"One of the most unique and critical aspects of SAF-IC is that the centre will be the first of its kind to research fuels which are made without any fossil fuels in the process, including improving understanding of how we can use bioenergy with carbon capture and storage (BECCS) to make a negative emissions fuel. 
"SAF-IC will enable businesses and academics to drive forward their research and technology at a swift pace thanks to its technical and clearing house abilities, allowing the nation to work in line with the targets set by the Department for Transport for net zero emissions from aviation by 2050." 
Work has already begun on the centre, which is anticipated to be fully operational by July 2022.